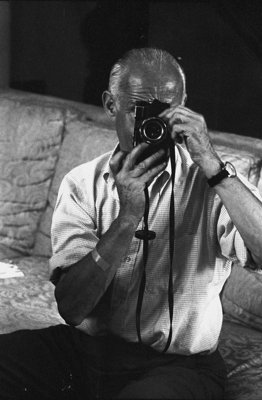 © Chiara Samugheo
Una ghiotta occasione a Milano per gli appassionati di fotografia, ma non solo per loro.
Il 14 settembre si inaugura presso la galleria Photology la mostra "HENRI CARTIER-BRESSON CLASSICS" dedicata agli scatti di uno dei più gradi fotografi del '900.
Cartir-Bresson è stato uno dei più acuti osservatori del mondo attorno la metà del secolo prima e dopo la seconda guerra mondiale. In questa mostra verranno presentati i grandi classici di questo fotografo che è ormai un mito: fotografie tra le più celebri e universalmente apprezzate. Si tratta di venti originali, tutte stampe originali firmate di varie dimensioni, dai 30x40cm ai 40x50cm: At the Curragh racecourse, near Dublin 1955, Alicante, Spain 1932, Calle Cuauhtemocztin, Seville, Spain 1933, Quai Saint Bernard, Paris, 1932, Sur les bords de Marne, 1938, Sifnos, Grèce, 1953, Rue Mouffetard, 1954, On the Banks of The Marne, 1938, Hyéres, France, 1932, Island of Siphnos, Greece, 1961, Santa Clara, Université Anglaise, ca 1955.
Tutte le opere in mostra sono in vendita al pubblico, un'occasione rara offerta da Photology a tutti gli amanti della fotografia da collezione.
L'inaugurazione avverrà il 13 Settembre alle ore 20,30 e sarà preceduta da due eventi alle mediateca "Caffetteria degli Atellani" alle ore 18, 30 la presentazione del libro Biografia di uno sguardo alla presenza di Pierre Assouline, Paolo Fabbri, Heinz Buetler e Claudio Marra e alle ore 19:30 la proiezione del film Biographie d'un Regard di Heinz Buetler
Le mostre di Cartier- Bresson
Tra le innumerevoli mostre internazionali di Henri Cartier-Bresson, ricordiamo quella presentata nel 1932 alla Gallery Julien Levy, New York, e al The Cercle Atheneno, Madrid; nel 1934 With Manuel Alvarez Bravo: The Palacio De Bellas Artes, Mexico, 1947 The Museum of Modern Art, New York, 1948 Bombay, 1952 The Institute of Contemporary Arts, London, 1953 Firenze, s, 1964 The Phillips Collection, Washington, 1965 Tokyo second retrospective show, presented by Asahi, Musée des Arts Décoratifs, Paris, 1966-67, Museum of Modern Art, New York, 1968, Victoria and Albert Museum, London, 1969, Stedelijk Museum, Amsterdam, Zurich, Leverkusen, Hamburg, Bremen, Munich, Milan, Cologne, Aspen, 1970 "En France": the Grand Palais, Paris, United Stated, Gallery Hallmark, New York, 1970, Soviet Union, Manège Museum, Moscow, 1972, Yugoslavia, Museum of Modern Art, Belgrade, 1973, Australia e Giappone, 1974 The International Center of Photography, New York, 1981 Retrospective – Musée d'Art de la Ville en France, 1987 Early Photographs – Museum of Modern Art, New York, U.S.A., 1990 Galerie Arnold Herstand, New York, U.S.A, 1998 Tete à Tete – National Portrait Gallery, London, UK, 1998 Line by Line – Royal College of Art, London, UK, 2004 Martin-Gropius-Bau, Berlin, 2004 Museum Ludwig, Cologne, 2003–2005 Retrospective, Bibliothèque Nationale, Paris, France; La Caixa, Barcelona, Spain; Martin-Gropius-Bau, Berlin, Germany; Museum of Modern Art, Rome, Italy; Dean Gallery, Edinburgh, UK; Museum of Modern Art, New York, U.S.A.; Museo Nacional de Bellas Artes, Santiago, Chile.
INFO
: HCB. Classico | 14 settembre - 11 novembre 2006| Galleria Photology | via della Moscova 25, Milano| Chiuso domenica e lunedì| Ingresso gratuito
ANTEPRIMA MERCOLEDÌ 13 SETTEMBRE 2006
Ore 18.30
- Mediateca, Caffetteria degli Atellani, via Moscova 28, Milano
Presentazione dell'ultimo libro edito da Photology
Biografia di uno sguardo
alla presenza di Pierre Assouline, Paolo Fabbri, Heinz Buetler e Claudio Marra
Ore 19.30
- Mediateca, Caffetteria degli Atellani, via Moscova 28, Milano
Proiezione del film
Biographie d'un Regard
di Heinz Buetler
Ore 20.30
- Galleria Photology, via della Moscova 25, Milano
Inaugurazione della mostra HCB. Classics
Argomenti: #cartier-bresson , #foto , #fotografia , #milano , #mostra